Animal Fine Art Collection static detail view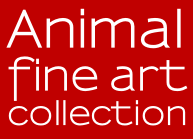 Previous
Next
Details go here...
Previous
Next

Una, Lady Troubridge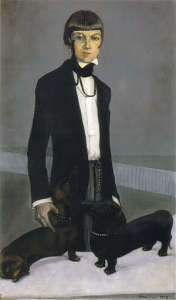 oil on canvas, 1924 by Romaine Brooks (1874-1970) American painter who worked mostly in Paris and Capri. She specialized in portraiture and used a subdued palette dominated by the color gray. Brooks ignored contemporary artistic trends such as Cubism and Fauvism, drawing instead on the Symbolist and Aesthetic movements of the 19th century, especially the works of James McNeill Whistler. Her subjects ranged from anonymous models to titled aristocrats. She is best known for her images of women in androgynous or masculine dress, including her self-portrait of 1923, which is her most widely reproduced work.
Story
British sculptor and writer Una, Lady Troubridge (1887-1963) is best remembered for her numerous translations from French and Italian, and is credited with introducing the French novelist Colette to English readers. She also wrote a biography of her longtime partner, Marguerite "John" Radclyffe Hall, author of the 1928 classic The Well of Loneliness. In 1908, Una married Admiral Sir Ernest Thomas Troubridge, but the union ended in 1915, the same year she met Hall. Hall introduced Troubridge to artist Romaine Brooks, who captured her in this 1924 portrait. The tailored man's morning suit conceals her feminine figure, and her pose suggests absolute control; note how Troubridge grasps one of the dog's collars. Brooks intended the portrait to be a caricature of her friend as a headstrong, demanding woman, and noted in a letter that this was "a sign of the age which may amuse future feminists."
Dachshund
Artist: Romaine Brooks
Uploaded by: Anne
Facts:
Type of artwork: painting
Animal group: dog
Type of animal: Dachshund
Sort of location: art museum
Location: Smithsonian American Art Museum, Washington
View on the main site